"I just got served today and I have a hearing in three days! What do I do?"
I call this technique by attorneys "swiping." That is not a legal definition, but it fits the bill. Although you have twenty days (or more) to file your answer to the court in Texas, the only legal requirement for a temporary orders hearing is three days' notice.
Attorneys will sometimes serve you with both the original petition and a notice of a trial setting at the same time. If they serve you with these three days before the trial date, it is valid. Do I agree with this type of gamesmanship? Not typically. If there is an emergency or urgency to the case, of course, this is appropriate, but often, attorneys may try to do this to gain an advantage over you.
With only three days' notice, it can be difficult to find an attorney for a consultation. Further, you may not have your funds together to hire an attorney. While you only had three days, the other side may have planned this for weeks or months.
To add insult to injury, sometimes the opposing attorney may call you and try to work out a deal, knowing that they just knocked you off your feet and are panicking. I never do this because I personally find it unethical. However, you could receive a call. What should you do?
Contact the Court. Let the Court know what date you were served and request more time to hire an attorney. You may need to appear at the hearing to ask for a continuance. Have clear communication with the Court and try to confirm your understanding of what to do in an e-mail with the Court.
Appear in Court. Based on your conversation with the Court, or if you were unable to contact the Court, appear at the date and time of the Order Setting Hearing. Do not be late!
Announcement. At the beginning of your case, the Court will ask if the parties are ready. Many times, a pro se party (party without an attorney), will just go along with the proceeding and agree that they are ready. Do not do this! Let the Court know that you are not ready and request a continuance or more time to hire an attorney. Listen carefully to the Court's response and make sure to write down any future court dates the court may assign.
Contact an attorney. When you are served, you need to start contacting attorneys for a consultation right away. This would be great evidence to show the Court that you intend to hire an attorney and have an appointment set already. You cannot wait weeks or months to act. You also should not expect to get multiple continuances while you try to retain counsel.
Be aware that a Court does not have to grant you a continuance. Each case is different. If there is an emergency or urgent issue in your case, the Court may not consider a continuance. Because each case and Court may handle this situation differently, it is important that you speak to an attorney in your area as soon as possible.
I have attached a photo of a note I received from a client that was almost "swiped." She was served on a Friday and had Court the following Tuesday. She desperately called attorneys and could not find anyone on such short notice for a consultation, except for us. We would be privileged to be consulted about your civil issues.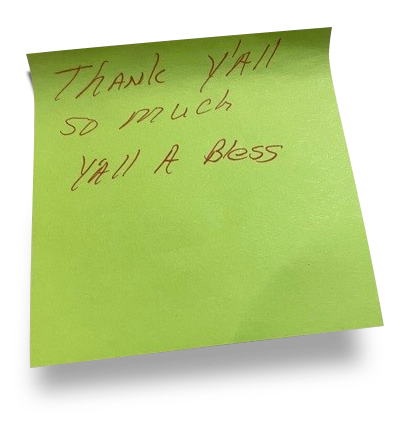 **The above content shall not be considered advice from an attorney. Every case is different. You should request the assistance of a licensed attorney for advice specific to your circumstances.**
Stay in the Know.
CHECK OUT OTHER RELATED BLOG POSTS
Let us know how we can help you. Fill out the form below, and we'll get to you in a swift and timely manner. If you would prefer to call, our number is 806.553.1962
Satellite Office | Lubbock